Sample Sheets on SevenFifty
We know that sampling and in-person tastings are a core part of the sales process between reps and buyers. Sampling is the best way for distributor sales reps to promote products and generate interest and for buyers to discover interesting products to fill their shelves and cellars. That's why we built digitally shared Sample Sheets – a tool that will improve the current sampling and tasting process between reps and buyers.
Currently, SevenFifty has tools to help reps create detailed, custom Sample Sheets that can be printed or attached to an email, but we want to evolve sampling and make the process more collaborative online. Shared Sample Sheets are an online companion to the printed sheets buyers are accustomed to.
How does Sample Sheet sharing work?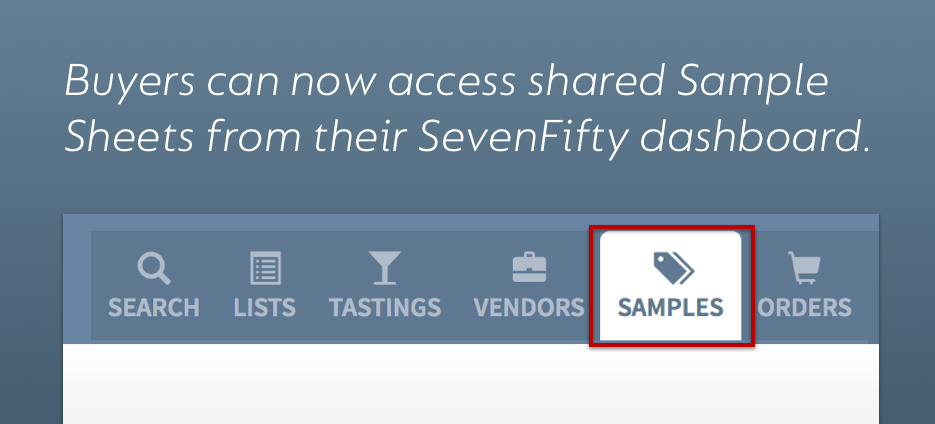 Sample Sheets are a natural extension of the sample preparation process in SevenFifty. Distributor reps can create presentation sheets just like they do today, choose which customers they are tasting each product with, and complete the process by sending a digital version of the piece of paper they drop off when they do a sample tasting. Any buyer can view a digitally shared Sample Sheet. Buyers that have a SevenFifty account can also see a historical record of all products that have been proposed to them and can place orders directly through SevenFifty's ordering platform for buyers.
How Distributors share Sample Sheets
For distributor salespeople, shared Sample Sheets improve on the current sample sheet workflow in SevenFifty. Reps have always had a "share" feature, but it's been limited to simply sharing a link to the PDF you printed out and left behind in person. That "share" feature is now truly digital, and buyers can view the suggested products and your notes from the SevenFifty interface. The best part is that buyers on SevenFifty can add items from the Sample Sheet directly to a draft order with a click. A buyer will also have a full record on SevenFifty of all items you've brought them in the past so they can reference items they liked or want to see more of.
To share your first sample sheet, first tag customer accounts you want to share with. Note: You must tag accounts in order to digitally share with a buyer.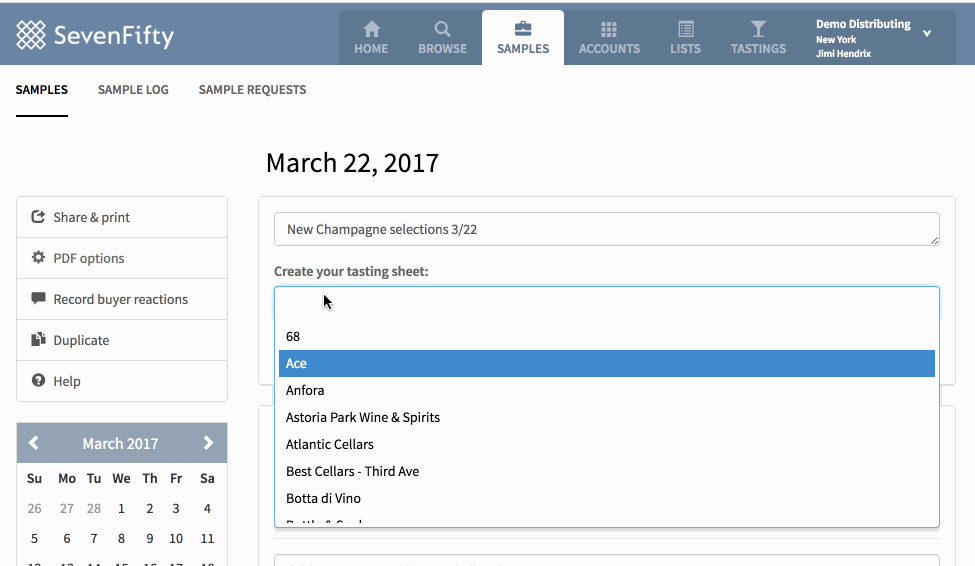 Next, click "Share" to send the sample sheet. Your buyer will be notified via email that they have new samples to review.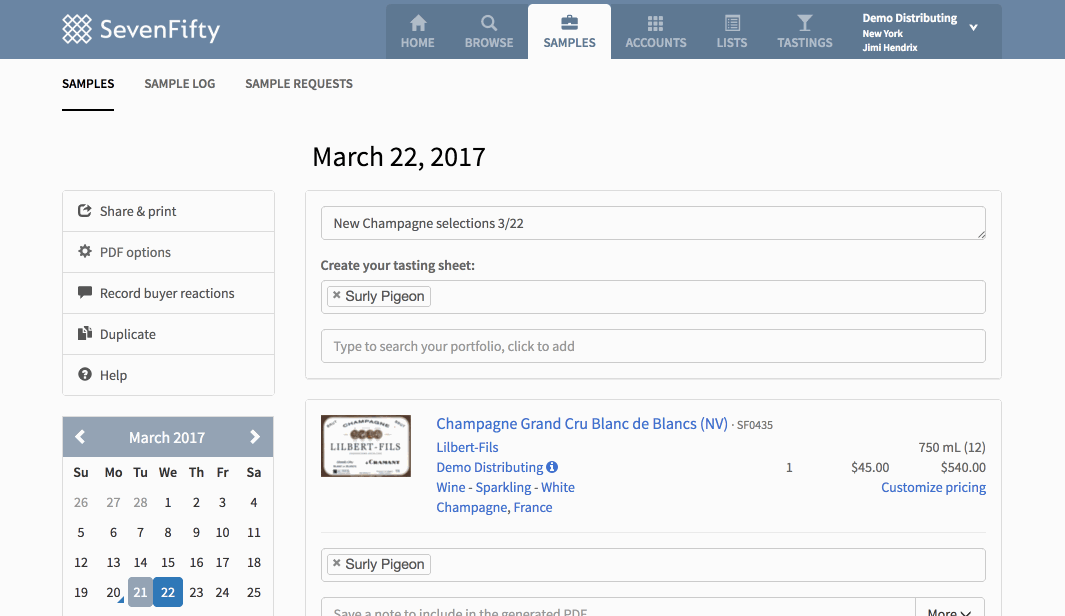 How Buyers use Sample Sheets
You can now click the new "Samples" tab on your main navigation to see a historical log with all of the Sample Sheets that distributor reps have digitally shared with you.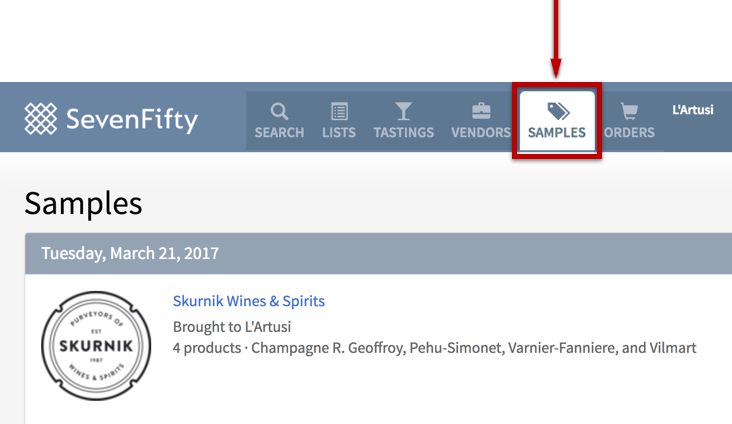 Sample sheets in SevenFifty are an online companion to the printed sheets or email attachments you may be accustomed to. What makes these Sample Sheets different is that you can also add products you like directly to a draft order with a couple clicks.
Products in Sample Sheets are similar to lists or search result rows. You can leave private notes about the tasting (your reps will not see these notes, and neither will other colleagues at your establishment).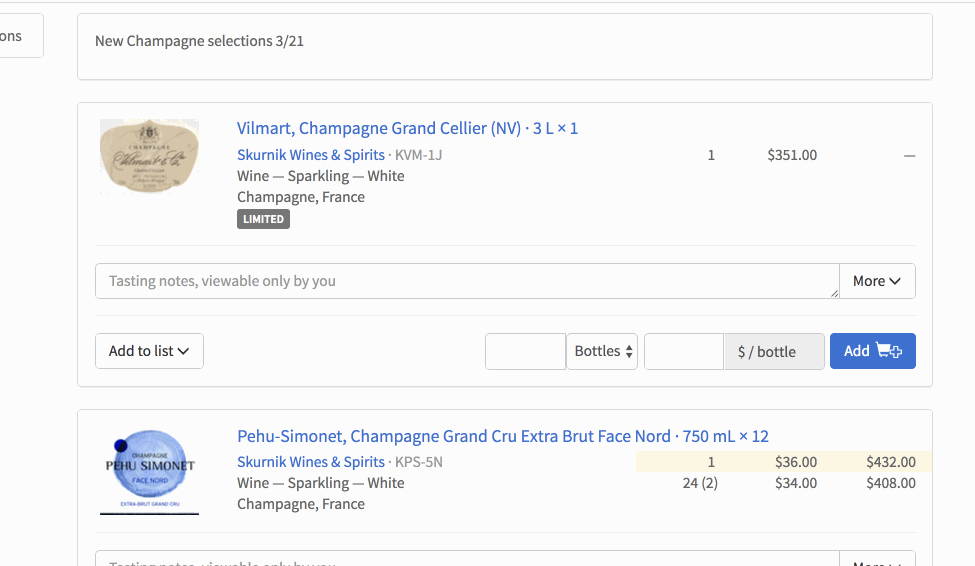 What's next?
Make sure to ask your reps to share sample sheets so you can keep track of your entire sampling history and always have a reliable and comprehensive record of everything you've tried together. Let us know your feedback on the sampling process in SevenFifty. We'll be making more improvements in the future, and want to make sure we are building tools that will be most helpful to you.